C
alli brought new joy and sunshine into our lives and we are so happy to have her. She is very sweet, outgoing and very tough little lady and we love her very much.
Nati
is her best friend and favourite playmate and she protects her like she was her mother even now when Calli is already grown up girl.
She is very gentle and loving with our daughter Lana and our son Tosja. She often sleeps in Lana's room and watches over her and they are great friends often playing together. Lana often claims that Calli is her dog and she helps me taking care of her. Calli is also very gentle and patient with Tosja who is not always the most tender boy and she is so happy if she can give him several wet kisses so our little boy is smiling of joy and feeling happy.
Calli is a very curious girl and likes to follow me everywhere and she will climb and jump to reach "interesting things" when we don't see her. She is full of energy but inside the house she is very quiet and silent little girl.
She is very tender and loving girl who loves all people and animals therefore she wants to jump on and kiss every person and dog she meets if they allow it of course. She is not greedy as most lappies are but she would sell her soul for cuddling and caressing.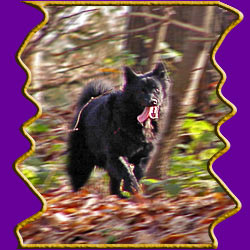 Life with her is never boring because she is full of energy and always ready for action. Her favourite activities are:
| | |
| --- | --- |
| - | playing with Nati and other dogs |
| - | running free in woods over vale and dale |
| - | digging holes if she gets a chance |
| - | being outside on walks |
| - | riding in a car |
| - | playing tug-off-war games with me and other family members and friends |
| - | going to new places and one day trips |
| - | watching TV |
| - | learning new tricks (she can do turns and twists, roll over, give me five) |
| - | playing with exciting, funny and tricky dog activity toys by Nina Ottoson |
| - | laying on the couch in my lap or cuddling in bed |
| - | travelling to dog shows |
| - | practising agility |
| - | being a patient and active pet therapy dog |
She is a very lovely and smart little lappie who won our hearts with her wonderful personality.
We are so happy to have her and we would like to thank Pia once again for letting us have our lovely black bundle of joy and energy.