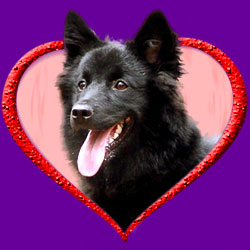 Calli came into our lives totally unexpectedly and unplanned. When our beloved puppy Idja died at the tender age of 3 and half months we were devastated and I was drowning in tears. I could not imagine living without a soft teddy bear looking puppy. Nati and the rest of our family were also very sad.
I have never thought that a new puppy will came into our life so soon, but when I saw that at Pia Bolin's home a litter of puppies from my dream combination was born I just could not resist the temptation and I felt I should have a girl from this special litter of 6 girls and 1 boy. Although all the puppies were already reserved Pia made an exception and let me have my beautiful girl Calli and I can never thank her enough for everything she did for me.
Calli is a daughter of Cahppes Saiko (his full sister Cahppes Skilla was a very beautiful Lapphund I have always admired) and of Härkes Vit-Tass (for me one of the most beautiful Lapphund girls of all times and she was also top Lapphund of the year 2001). Vit-Tass is truly a fantastic Lappie with personality plus.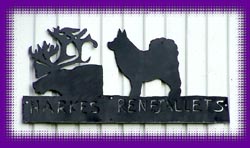 Calli comes from one of the oldest and most reputable kennels in Sweden which is known for their beautiful Lapphunds with great temperaments and mentality beside looks. Kennel Härkes is also known for their Lapphunds with some white patches as it was discovered through the years that Lapphunds which are not completely black are stronger and healthier in general.
When I saw my little bundle of joy on 26th July 2005 for the first time in my life I was in love. Calli greeted me heartily and she was happy to be cuddled in my lap. I got many wet kisses from her and she looked so joyfull and was so full of energy - always in motion. I knew she will bring new joy into our lives.
I was also delighted about Pia's other girls - Calli's mother Vit-Tass who is a very lively and beautiful Lappie lady and Libba, who reminds me on Nati in so many ways. They are both very lovely Lappie girls.
We enjoyed the wonderful hospitality of Pia's home and we will be always thankful to you Pia for making our journey to Sweden so pleasant and unforgettable.
And let me say THANK YOU, PIA for letting me have such a sweet and tough little lady Calli! You really have a heart of gold!
I would also like to thank you - my other Swedish friends for making our summer holidays in Sweden so pleasant and unforgettable:
| | |
| --- | --- |
| - | Cattlin (Herding Instinct's kennel) for a warm welcome and all you did for us. You are a wonderful friend. Meeting Adjak again was great and knowing he did not forget me really touched me. It was also great meeting your Adja, Adina, Boazu, Daima, Davvi and Cisko. Hope we will meet again soon! |
| - | Anci and Henrik (Cahppes kennel) for inviting us to see their beautiful Lappies - relatives of our girls. I was so happy to see Cim still in good condition and also Idja, Skilla and other black beauties. |
| - | Birgit and Kurt (Raidis kennel) for such a warm welcome and hospitality and many happy hours we spent together and for all DVD's about Lappies. Seeing Nati's mother Lara in superb condition really made me happy. I was also impressed by my favourite boy Halli and new star Carro and also by sweet puppies and other Lappies Olivia, Tarja, Eric to name just aome of them. Thank you so much for all your help and support during the years and of course for letting me have my beautiful showstar lady Nati, who is our and your great pride and joy. Wishing you all the best and hoping to meet you again soon. |
| - | Catrin (Renlundens kennel) for warm welcome at your house and for our Lappie talk, which unfortunately was too short. I was so happy to see Calli's sister Akki and Flisa's daughter Stina and your energetic puppy Svarta Ullis. I would also like to thank you for letting the family Hribar in Rakek have a wonderful black boy Unique. Wishing you all the best and hoping to meet you again soon! |
| - | Lena (Istappens kennel) for the nice talk and best wishes over the phone altough unfortunately we could not meet this time. But I am sure we will meet again soon! You are such a wonderful and caring friend and I will be always thankful to you for everything you did for me and for all your help! |